Awesome People List - Ep #18
New world fundraising, more with less, BD. Hang in there 🙏
Hi Founders and Fellow VC Friends!
The one thing that gives me hope right now is all of you. You're all working on important problems - whether directly related to COVID-19 or beyond. Our society is built on the new frontier, optimism, and innovation. Now more than ever we need your entrepreneurial spirit. 
I've debated whether to keep this newsletter going, and have decided it's best to maintain some normalcy. I think about the Awesome People List as your extended team. We're here to give you wings, in sickness and in health.
With that, remember people give startups superpowers 🚀. Each week we deliver one awesome person to your inbox. These are the people you need to know. The best part is, everyone is hirable on an interim basis. 
Today is jam-packed with goodies and there's something for everyone:
Meet Chaz our fundraising and commerce expert

Understand your capital options

Do more with less and $$$

A full-time gem

P.S. Treats… lots of treats 😍
---
Please meet

Chaz

, your fundraising expert, and Interim COO 
For better or worse, Chaz started his career during the 2008 recession at Silicon Valley Bank. He has lots of poignant advice for today's climate. Many of us need to fundraise soon, so now and more than ever, we need a pro. 
I met Chaz in 2014 when he was at a16z. He's an amazing human and serves as a sounding board for many of my founder and VC friends. He's one of the founders of Pattern Brands, a hot CPG company that launched over 40 custom-designed SKU's in less than 10 months and raised $15M. He's scaled several startups, helped raise $1B+ of capital, and held almost every VC role imaginable. On a personal note, if you get the chance, ask him about his jigsaw puzzle side business 🌈.
He's trusted by a16z, Boom Capital, Alloy (supply chain AI co that's raised $15.3M), PCH (product development co that does $1B in revenue), and many other brands and funds. 
You can hire him to help with fundraising (debt & equity), physical product development, scaling a commerce brand, and retail distribution. 
If you want an intro to Chaz, please respond to this email and I'll connect you.
Since

Chaz

has sat on both sides of the startup table, I asked him for some timely tactical tips.
Think MBA 101. This is super important 📈.
---
You have access to more types of capital than you think.
Here's the scoop on different sources of capital. You need to know who to talk to when. 
Venture capital is designed for potential unicorns.
For fundraising, remember that you're competing against the entire set of investment opportunities, not just your peers.

Similarly, investors reserve capital for follow on rounds. In downturns, they'll triage and allocate capital to the highest portfolio performers. 
Venture debt is a loan for startups, that may not qualify for traditional bank loans. It's often used post-product-market-fit. You need solid unit economics and the ability to leverage capital to grow reliably. For example, let's say you make a widget. Your customer acquisition cost is $10, your lifetime value is $20, and you have 80% margins. At this point, you can use venture debt to safely fund user acquisition, distribution, and high ROI marketing activities. 
Banks take less risk and offer cheaper rates than venture debt (~6-8% interest compared to ~12-15% interest). Bank loans can finance your accounts receivable or provide capital for inventory purchasing.
Family offices often invest in companies or provide debt. Many invest in their families' sectors - e.g. apparel, food and beverage, real estate - and can accelerate companies both financially and strategically. They're often looking for a different return profile than VCs. 
---
Do more with less.
Think through every hire, do you really need that person full-time? Does it make sense to build, buy, or partner?
Build something in-house with full-time people 

Buy a solution from another company

Partner with or outsource to experts 
At Pattern, our secret to shipping 40 SKU's in < 1 year was working with engineering and industrial design firms. You can move faster when you lean on people with expertise. There are agencies for each part of the business stack -  from product engineering to Shopify development to growth marketing. Resist the urge to bring things in-house on day 1. You can save time and money by pushing out full-time hires until you're farther down the learning curve. 
---
Cash, especially during a downturn, is king. 
Revenue is your best funding source. Focus on your top-line revenue, not just conserving cash. It can be tempting and easier to just focus on cutting costs, but remember that you need to preserve the revenue you have today. Existing customers are often easier to monetize than prospecting new ones. Focus on retention, upselling, and referrals. 
Access capital sooner. In this new climate, make sure to raise earlier with longer timelines. You want to begin conversations when you have at least ~9 months before you run out of cash. Expect rounds to take 3+ months to close vs. 6-8+ weeks. 
Understand your cash flow and your contract terms. When and how do you get paid? Monthly? Annually? On sell-through? On _____? What's your working capital (capital needed to run day-to-day operations like payroll and marketing) at all times? For example, many companies overbuy inventory and don't have cash for everything else. Sometimes it's 180 days before you get paid back. Consider smaller, more regular buys and balancing cash flow and margins. 
---
Full-Time Gem - Business Development
Please meet Cokie Hasiotis, she comes highly recommended by Ganesh Kumar, the global head of growth strategy and analytics for Amazon's smart devices. She's looking for strategic BD roles within banking-as-a-service companies, digital teams at banks, or anywhere with good people.
---
Want an intro to Chaz or Cokie? Send me an email and I'll connect you 🙏.
Stay safe, call your loved ones, take good care of yourself and…. stay awesome,  
Founder of Awesome People List
Founder of Awesome People Ventures
If you liked this heart it below and share it with friends ❤️.
If someone forwarded this to you, you can sign up here 💌 !
---
PS. Treats
Fun virtual stuff to do
Check out D-Nice's Club Quarantine. These live Instagram DJ sets are 🔥 and it's heartwarming to see 100ks of people tuning in from around the world. Even Oprah and Michelle Obama are in on it.

Quarantine RX is a random idea generator for self-care for the self-quarantined. It's beautifully designed and you can see the full list of ideas here 🥰.

Ideas for more interesting video calls ⭐️

Invite a singer or artist to come to perform for your team or friends. It's also a great way to get creatives paid.

Try Instagram live video effects for some laughs. Ideally in Halloween costumes.

Zoom magic tricks. Prediction: this will be a thing 😂. Thanks to David Rodriguez for inventing this art. If you're a founder, pitch him, he's great.
Biz tactics
On Deck's "How to Host a Virtual Retreat Playbook" is filled with creative ways to build trust and connection across teams.

The Brand Foundry put together a thorough startup survival guide that includes everything from how to handle lay-offs to how to still win customers.

Remote mentorship and management tips from a dear friend, Catherine Stewart (CBO at Automattic, a fully remote co):

Offer open office hours with public appointment slots

Host company-wide AMAs and town halls

Clearly define expectations for success and working hours, given the new situation.
Housekeeping
😎
If this is going to spam or other, please add me to your contacts list. Shout out to Ryan who upgraded my janky Canva image to this beautiful screenshot 🙏.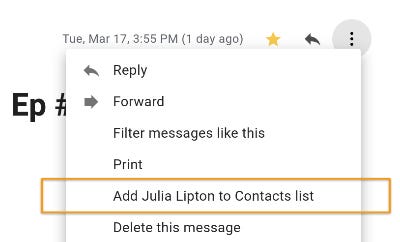 Super exclusive, bottom of the page, bonus content!
❤️😀🙌🙏👍🌴✨⭐️🌈📈😍😎😂😉🌺🚀💯🤩🎉