Hi founders and fellow VC Friends!
Each week we deliver one awesome person to your inbox. These are the people you need to know—the marketers, sales gurus, engineers, ops wizzes— who give your startup superpowers 🚀. The best part is, everyone is hireable on an interim basis.
Today's docket includes:
Matt, your masterful copywriter ✏️

FT Gems - It is what it is 🤩

P.S Freebies (and more copy tips!) 👏
---
Please meet Matt, your campaign guy & copywriter ✏️
Matt and I met through my good friend Cristina — she has a new stealth company and raves about working with him. He def does not disappoint! Over the course of his career, he has written tv commercials, launched national campaigns, worked on brand partnerships, and developed content ideas for influencers. Most recently Matt created his own hand sanitizer brand that's launching soon.
Fun fact, Matt got his big break by writing text messages as a fake web-cam girl. I kid you not… ask him about it 😂. He's hysterical.
He's worked at top ad agencies and trusted by dozens of household brands across CPG and software. Some of my favorites include Uninterrupted by LeBron James, Sharpie, Bud Light, and Crock-Pot (source of many good memes).
You can hire him for brand development, content ideas, copywriting, and campaign concepts.
He's a winner. Email me if you want an intro!
---
Matt's top copywriting and branding advice 🎉
Copywriting 101
Stay in touch with the real world. Watch tv, talk to your cousin's kids about things that annoy them, devour every unit of culture that you can. Words have a wonderful way of representing culture and simultaneously being able to push it forward. When Nike created this Serena Williams ad, they took a stance on traditional gender roles.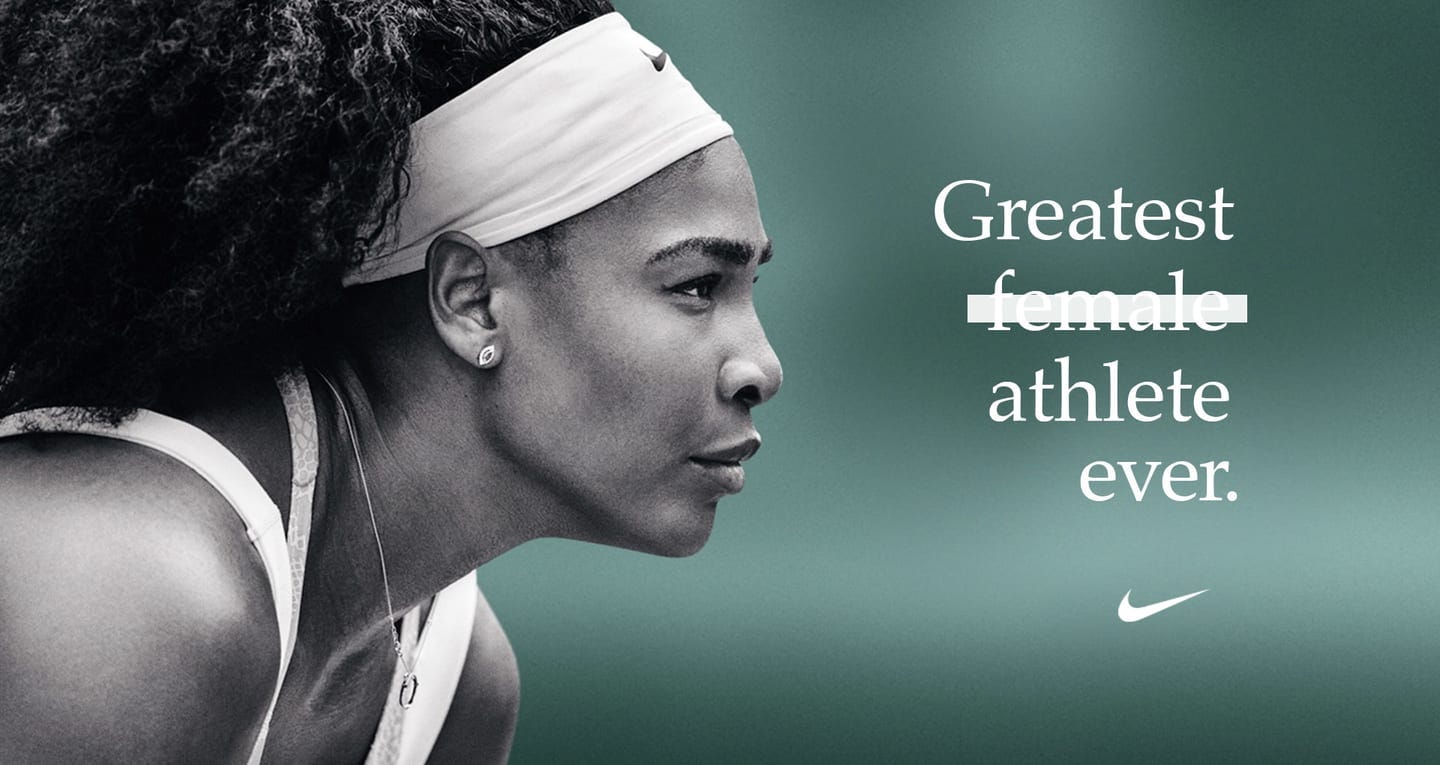 They said that an athlete is an athlete - full stop. And a whole generation of people grew up seeing that.
Remember that it's a visual culture 😀 so don't pontificate with 4-syllable words when a visual or symbol will do.
When you're done writing, read it aloud. Awkward sentence structures often reveal themselves when you speak them.
5 copy tips for startups 🔥
Understand the difference between being defined by your brand versus your products. Apple is a great example of a brand that's built on brand equity. The Newton Message Pad? iPhone 4's Antennagate? All failures on their part, BUT because Apple has centered their messaging around their brand and not products, people look past those missteps. The brand remains untarnished. Samsung, on the other hand, has put the emphasis on its products. So, when a phone blows up, the general public assumes all Samsungs are potentially timebombs.

Define your brand's enemy. Most strong brands have an enemy. Apple's enemy has always been the generic and predictable PC user. Nike's enemy? Apathy. They don't go around saying "Just think about doing it..." Even Trump's "Make America Great Again" campaign had an enemy: the status quo. Whether you agree with it or not, his campaign made it possible for people to feel like their enemy was his enemy too.

People should feel something when they see your product. You're not just taking up space on someone's phone, email, or kitchen counter, you're taking up space in their lives. The feelings you create don't have to be romantic, but they sure as f*** shouldn't be apathy.

Your purpose matters. Redbull's purpose isn't to make the world's best energy drink, it's to live life to the extreme. To push life's limits. Given their purpose, they have permission to push the envelope in any way they see fit.

Call your mom or dad often. Seriously. It puts everything into perspective.
That last one, while not copy related, gets me ❤️.
Need some copy, marketing, or campaign help? Let me know and I'll intro you to Matt!
---
FT gems & interns 🤩
Last week it is what it is took over twitter and raised over $200k for Loveland Foundation Therapy Fund, the Okra Project, and the Innocence Project.
Despite the controversy, all of the team members I've met are incredibly well-intentioned and dedicated to quality work. The team collaborated, iterated, and sprinted harder than most venture-backed teams. Their teamwork was inspiring.
If you're looking for entry-level, collaborative, and committed team members, here are a few that are looking for jobs. They also happen to be incredibly diverse ✨.
Mihir Patel (Website) - Entry level front end, or full-stack developer. He enjoys working with Javascript, NodeJS, SQL and Python and studied SC and Physics at Rutgers.
Eshita Nandini (Linkedin, Website) - Product analyst. She's currently a data quality analyst at Shareworks by Morgan Stanley and looking for a product analyst role at a startup < 150 people. She likes fintech and is open to other industries.
Purnima Mehita (Linkedin, Website) - Junior design intern. She's looking for design internships and currently in the class of 2022 at the University of Toronto.
Please reach out to them directly if you want to chat.
---
If you want an intro to Matt or to claim your surprise gift in the P.S. section, let me know and I'll hook you up 🙏.
Stay awesome,
Founder of Awesome People and Awesome People Ventures
If you liked this, heart it below and share it with friends ❤️.
---
PS. Free invites to Founders Summit 👏
Spero, one of my fav world-positive VCs is hosting a Founders Summit, July 14-16. If you're a seed-stage or Series A founder and want a free ticket, let me know. I have promo codes for you! Speakers include Fred Wilson of USV, Rahul Vohra of Superhuman, Meg Whitman of Quibi, and Mahendra Ramsinghani, author of "Startup Boards," and other awesome people.
PSS. More hot tips from Matt 🥳
I just can't get enough!
Build a strong brand with a strong marketing team culture
There's a difference between failures and mistakes. I've been indoctrinated into the mindset that a team culture should embrace failure, but attempt to avoid mistakes. Failures mean you went big and tried, mistakes mean you were lazy or sloppy.
It's ok to change your mind. The biggest luxury in life is the ability to change your mind. So you thought something should be one way, but nobody got it and it turns out you were just talking to yourself? Cool. Adapt appropriately. Indulge in change.
Make sure everyone is defining words the same way. Speaking the same language is one thing, but I've seen too much time wasted when multiple people all interpret the word "idea" differently. Sounds simple, but happens often.
Don't let process kill your company. There's always a new app or platform that promises to "revolutionize" your workflow. Don't get too caught up in process. Too much process can kill any internal creative magic that your brand, and the world, so desperately needs. Find a process that allows the proper amount of chaos and adjust it based on the situation.
❤️ ❤️ ❤️